What We Do
The forests of southern Illinois have a worldwide reputation for growing high-quality red oak, white oak, hickory, poplar and walnut. These species and others are shipped to markets across the U.S. and exported around the world to growing economies. Carbondale Veneer Co. harvests 2-4 million board feet of hardwood logs annually which provides wood products for U.S. and worldwide consumers, income for landowners, and regenerates our forestlands for future generations.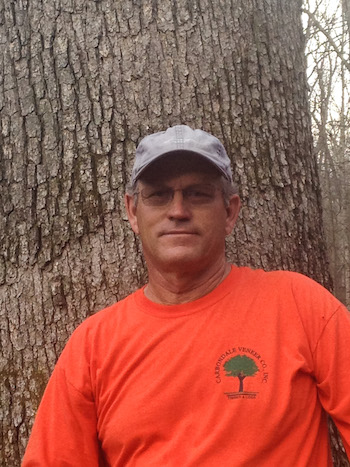 About Us
Stan Curtis received his B.S. degree from the School of Agriculture at Southern Illinois University. He started his forestry career in 1980 as a procurement forester and log buyer with Koppers Co. in Jonesboro, Il. Carbondale Veneer Co. was conceived in 1989 after Stan saw a need for a high-quality, low-impact logging company to assist landowners in managing and maximizing their investment in their timberland. He envisioned a company that would follow sustainable forestry principles and use Best Management Practices to protect the forest, soil and water quality, and ensure long-term availability of high-quality forest products.
As of 2016, the company is still 100% owned and operated by the Curtis family. Most of the timber bought by Carbondale Veneer Co. is located in southern Illinois south of Interstate 64. They do consider larger tracts of high-quality trees in central Illinois, southeast Missouri, southwest Indiana, western Kentucky, and Tennessee. They have contracted with close to 900 landowners since 1980, and references are available for landowners in your area. Many of our landowners are on a 10-20 year harvest rotation depending on the site and soils of their forestland. Responsible and knowledgeable landowners know that a harvest is an important management tool to keep the forest healthy. A harvest provides habitat for deer and turkey populations, better access to forestland by a trail and road system created for timber removal, and income to landowners.
– Contact us by phone 618-713-1472, fax 618-549-5495, or email at cveneer@gmail.com.
 PO BOX 3377
Carbondale, Il 62902
Phone: (618) 713-1472
Fax: (618) 549-5495